Fun Center has opened a new activity center in Kvadrat shopping center!
On 1300 m2 we bring you everything you need for amazing day with your family, friends, school class, collegueas and so on! Enjoy good food and drinks in our cafe and bar where you can relax before or after the activities. We have four VIP rooms that are available for birthday parties and group events.

FUN & FAMOUS BLACKLIGHT MINIGOLF
Are you ready for a journey around the world? Your trip starts in France, you travel on to Australia, India, China, USA, Egypt, Brazil and England before ending the trip in Italy. While visiting these countries and their famous landmarks the UV light creates magical efffects and will give you an unique experience.

PLAY & LEARN
Do you want to learn something new besides playing? Then you should try our new Fun Quiz! On each mini golf course you will find "Fun Facts" – which involve interesting facts about the country, the city and the landmark. After playing you can test your new acquired knowledge within a quiz. This is the perfect arrangement for school classes, SFO, groups and team building events.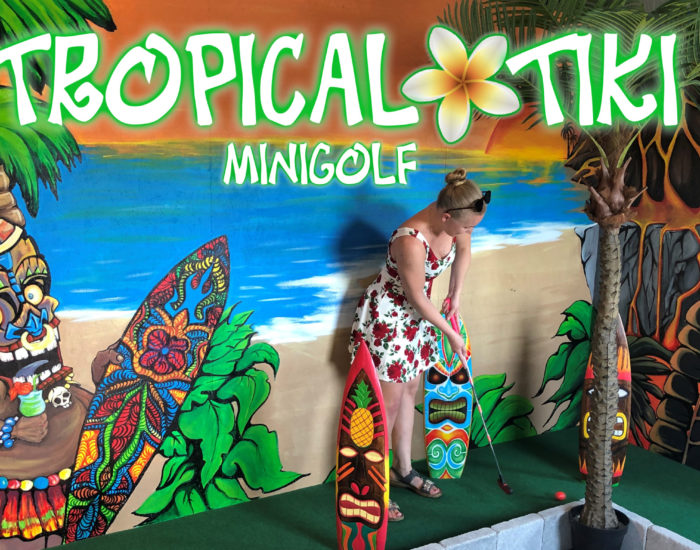 TROPICAL TIKI MINIGOLF
Longing for a vacation? Then you should try our Tropical Tiki Minigolf. The tropical themed golf course makes you feel like being on vacation. Jump into the tropical sea at Fun Center in Kvadrat, here you find 9 indoor golf courses in an unique style and at different levels of difficulty. Our jungle-inspired courses and fun obstacles will give all golfers an exciting challenge. Wall paintings take you on an exciting journey to the blue sea, magical beaches and wild jungles.
Price minigolf:
Kids age 4-12/retirees        18 hole      149,- NOK per person / 9 hole: 89,- NOK
Adults age 13+                     18 hole      169,- NOK per person / 9 hole: 99,- NOK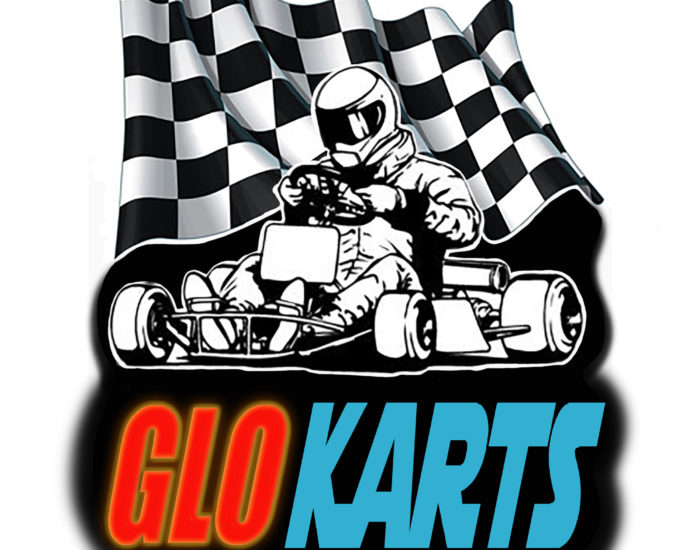 GLOKARTS
Do you want some action in your everyday life? Then you should visit our location in Kvadrat and try our new glokart track. The blacklight race course and the lighting effects will be a highlight for all children. We focus on fun and driving experience instead of competition. This means that it is not possible to drive past each other so that everyone gets an unforgettable experience. Glokart is best suited/recommended for kids because the cars are electrical and the carriageway is not that big. 
 3 heats (15min): 199,- per person.

1 heat (5min): 99,- per person.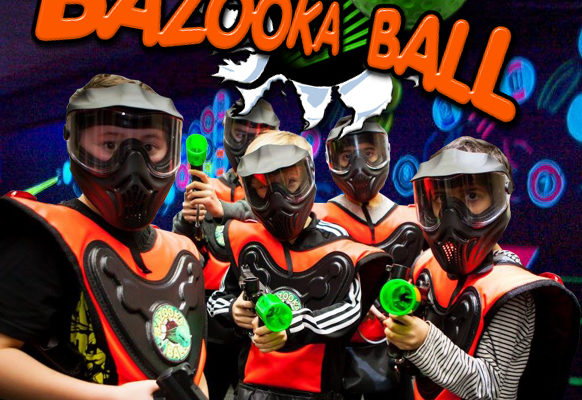 BONKERS
Bazooka ball is a popular group activity that is perfect for children's birthdays or bachelor(-ette) parties. The balls are soft so that everyone can play – children as well as adults. Recommended age: 10+
Price: 199,- NOK per person (minimum 2 people)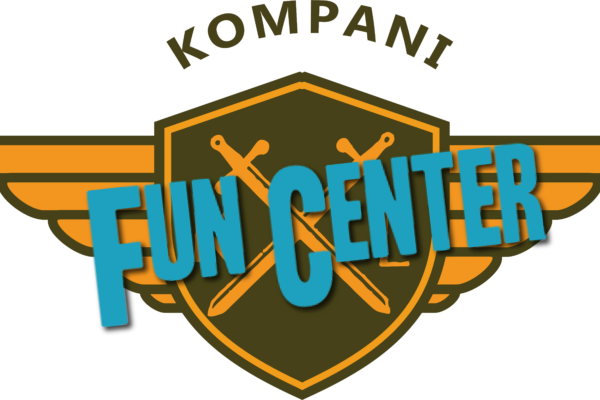 KOMPANI FUNCENTER
Kompani FunCenter is an indoor obstacle course inspired by the TV program "Kompani Lauritzen". This acitivity is a good opportunity for teambuilding. While crossing the obstacles co-workers, friends or couples can challenge themselves in a fun way. 
We can adapt the obstacle course and the activities to your budget. Please contact us for a detailled price list.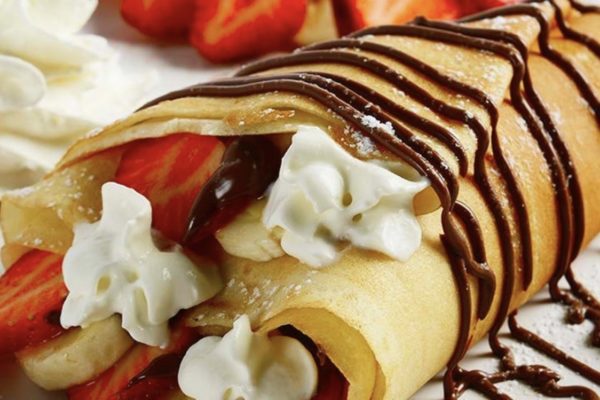 CREPES
We offer different variations of delicious crêpes. You can choose from crêpes with nutella, whipped cream or strawberry jam.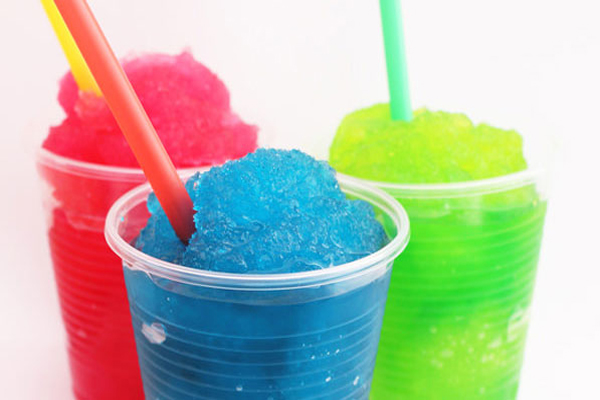 Soft drinks

Slush ice (slurps):  Green apple, red strawberry, cola, mango, Peach iced tea, Watermelon
Mineral water, Coca Cola, Coca Cola Zero, Fanta, Sprite, Urge, water, Powerade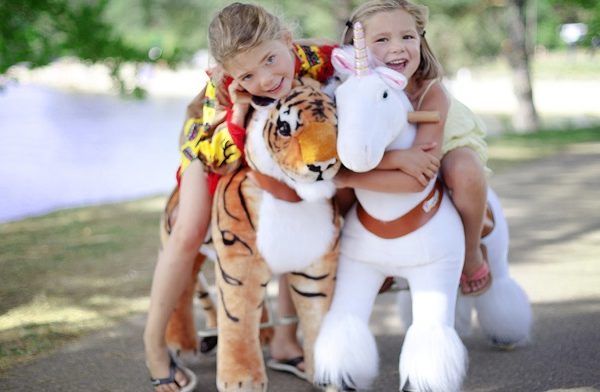 Pony rental

We rent various kind of animals which your kid can ride in the Kvadrat shopping center. You can choose between ponies, tigers, lions, elefants or zebras. Besides that there are different sizes available so that your kid finds the suitable animal regarding their height.
20 min 69,-
40 min 99,- 
60 min 129,-

Opening hours for drop in:
monday          10.00 – 21.00
tuesday          10.00 – 21.00
wednesday    10.00 – 21.00
thursday         10.00 – 21.00
friday               10.00 – 21.00
saturday          10.00 -18.00
sunday            closed
In case you would like to book a group event outside the usual opening hours we can make that work for you. Please contact us in advance for any booking concerns. We arrange birthday parties, team building events, company events, bachelor(ette) parties, groups of friends, etc.
Get in touch via the contact form:
Children's birthday?

Send us an inquiry via the contact form below. You can as well use our invitation document which you can download here.
GIFT CARDS
A gift card for Fun Center is a nice gift for everyone who enjoys fun activities and experiences. The gift card can be used for all types of bookings and activities. You choose the amount yourself. Contact us to agree on where and when you can pick up the gift card: Contact us.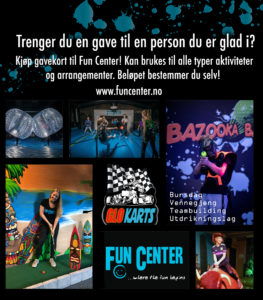 Activities in Kvadrat