Quiz
We offer all kinds of quizzes for various events. Add an exciting quiz package with activities, food and drinks for your teambuilding or bachelor party!
Note: Amazing Race teambuilding package contains quiz.
Quiz night on a big screen is a fun part for every teambuilding, Christmas party or company event! We create a quiz with fun sequences, music and pictures. The group will be splitted into teams, you will receive quiz buzzers and should answer the questions in your team. We award and give out a prize to the winner team.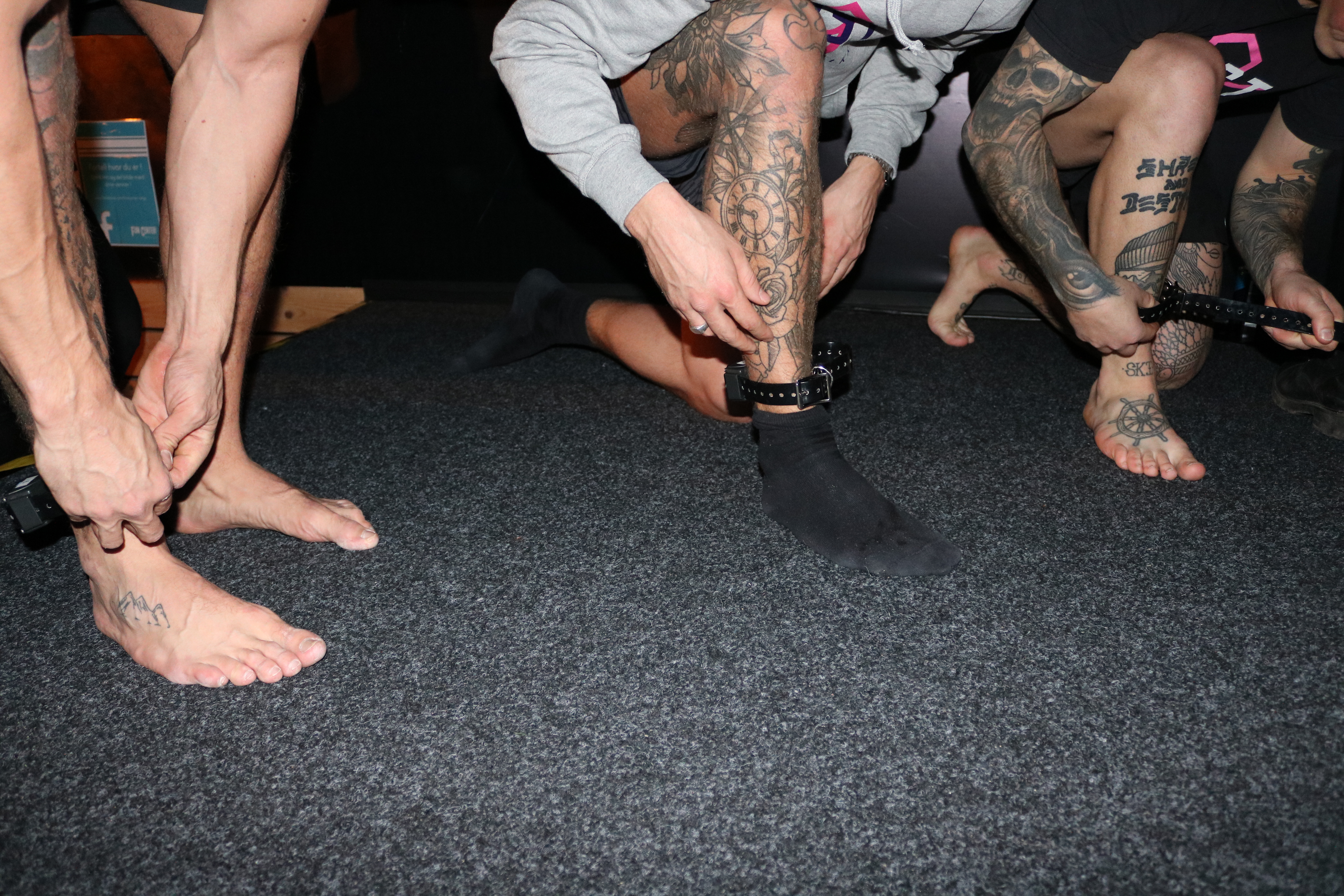 Electroshock Football
Introducing the latest craze- Electroshock Football. Tried and tested by ourselves, let us tell you that it is not harmful in anyway. If anything, it is hands down hilarious.
The game starts as a nice friendly version of the beautiful football game and then the real fun starts. SHOCK! Try to show no reaction to the electric shocks and prove how strong you are.
Each player wears a shock collar on some part of their body and your fellow participants can choose to shock you anytime during the game via a remote control. Do you think you can handle this? Do it as your Golden Goal and try electroshock football for a good laugh.  SEE VIDEO: Se video fra Elektrosjokk Fotball hos Golden Goal
Price: 300,- kr pp.
*Age limit 18 years.
*You can also rent it out.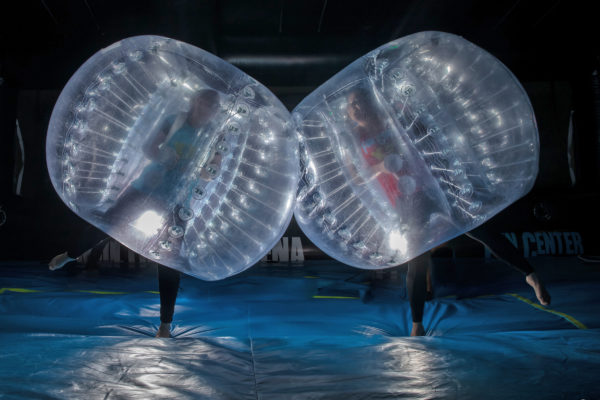 Bubble Football / Bumpers Football
Do you want to have an unforgettable and funny experience with your friends and colleagues? If you want to enjoy football with an amusing twist, you should definitely try Bubble Football. It is a fantastic sport for almost any event whether it is for kids, a bachelors party or even a corporate team building.
When you play Bubble Football, you are wearing a big inflated sphere / ball from which only your legs stick out. It is an incredibly hilarious activity to try out. You're guaranteed to have a fantastic time!
Price: 300,- kr pp.
*You can also rent it out.
Photographer: Rune Helliesen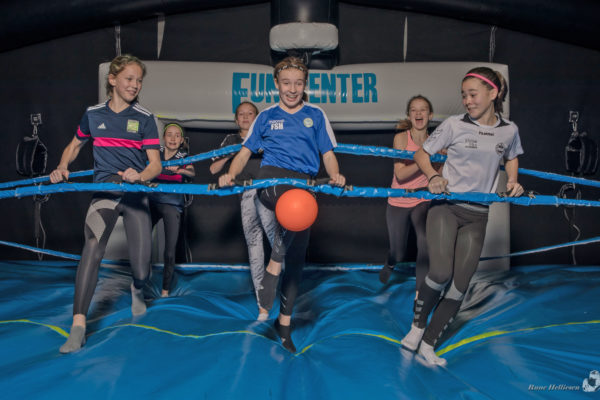 Human Table Football
Do you like foosball? Then you must try human table football! In this game, you do not move the plastic players, instead you become figurines! However, don't think playing is easy – you will have to hold the rope for the whole time and in order to move, your teammates holding the same rope will also have to move in the same direction! That means one thing – teamwork is crucial in this game.
The large inflatable version of the human table football game has nine players on each side and teams will have to work together to score as many goals as they can.
Photographer: Rune Helliesen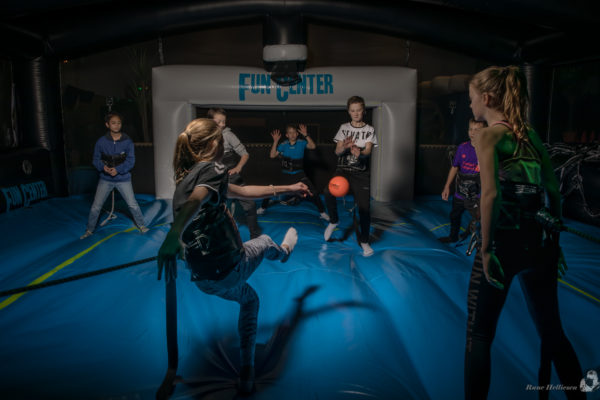 Bungee Football
Have you ever jumped with a bungee rope? This game is not only football within a special atmosphere, it comes along with bungee ropes. The challenge is that the elastic ropes pull you back, if you run too far. Great fun and challenging. Most famous activity not only for kids.
Photographer: Rune Helliesen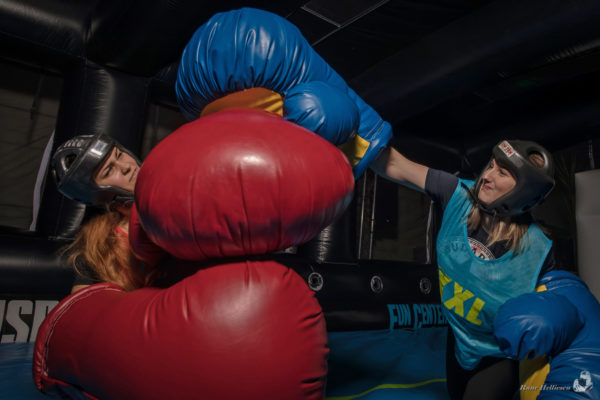 Crazy Fights – Boxing
This is a very tough challenge to the pleasure of all participants. Giant gloves with a weight of 3 kg, which makes it extra hard to knockout the opponent. We count the points and make sure it is fair play and safe.
Bouncy Boxing. You want the activitiy? A Sumo arena and inflatable boxing ring are to rent also.
Photographer: Rune Helliesen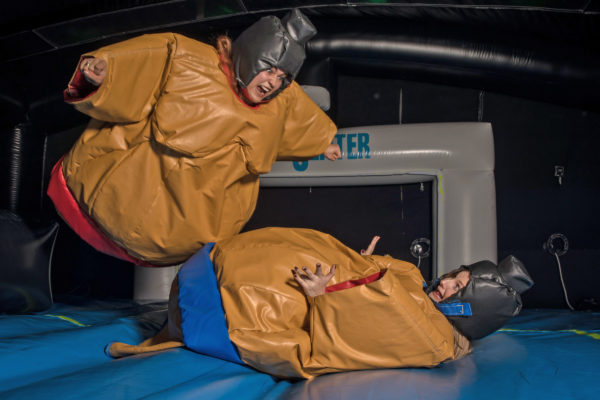 Sumo Fight
Push your enemy onto the ground or out of the ring 3 times and you are a sumo wrestler. Doing that you are wearing a giant sumo suit with a helmet.  This is training for laughter and muscles, not only for participants but also for those who are watching.
Photographer: Rune Helliesen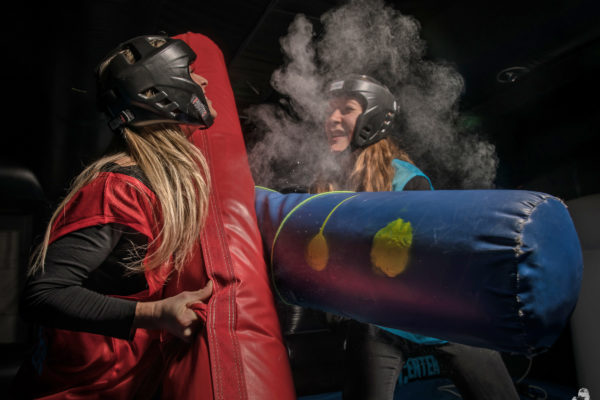 Gladiator Fight
Gladiator fights were one of the most watched forms of popular entertainment in the Roman world. Ever wanted to live and fight like a gladiator from the Roman Empire era? Well now is your chance.
You can get all dressed up in protected armour similar to the gladiators and fight your opponent with special fighter sticks. Knock out your enemy thrice and you will be the ultimate gladiator.
Photographer: Rune Helliesen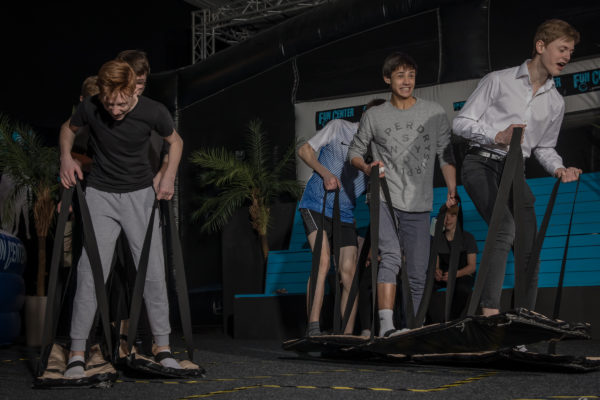 Big Feet
This activity fits perfect to everyone.
Teamwork is the focus with 3 or 6 people coordinating arms and legs simultaneously on one pair of "big feet".  Aim is to be first at the finish line.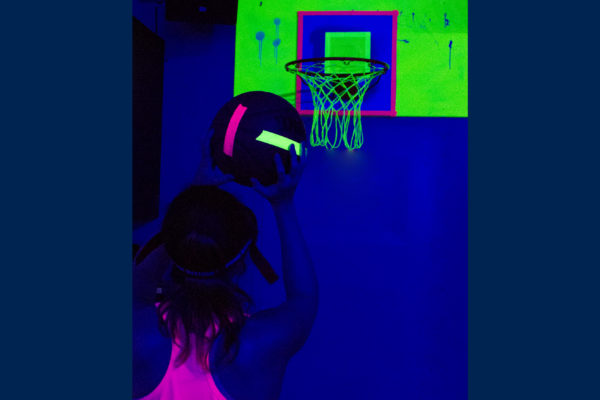 Blacklight Basketball
Ever wanted to play basketball in the dark? Sounds impossible right? How would you spot the hoop or even the ball in the dark sounds challenging right? Fun Center has taken this unrealistic dream and turned it into a reality.
We bring to you glowing fun! We offer blacklight basketball with light and sound. Come experience the magic!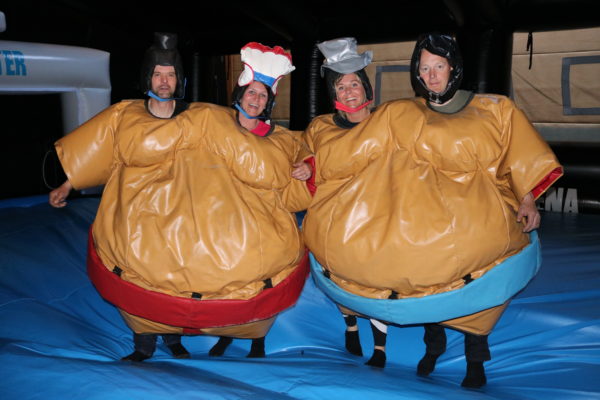 Double Sumo
Giant double sumo suits are twice as fun and hard as usual sumo. This is good training for your teamwork, coordination and balance skills. Great fun!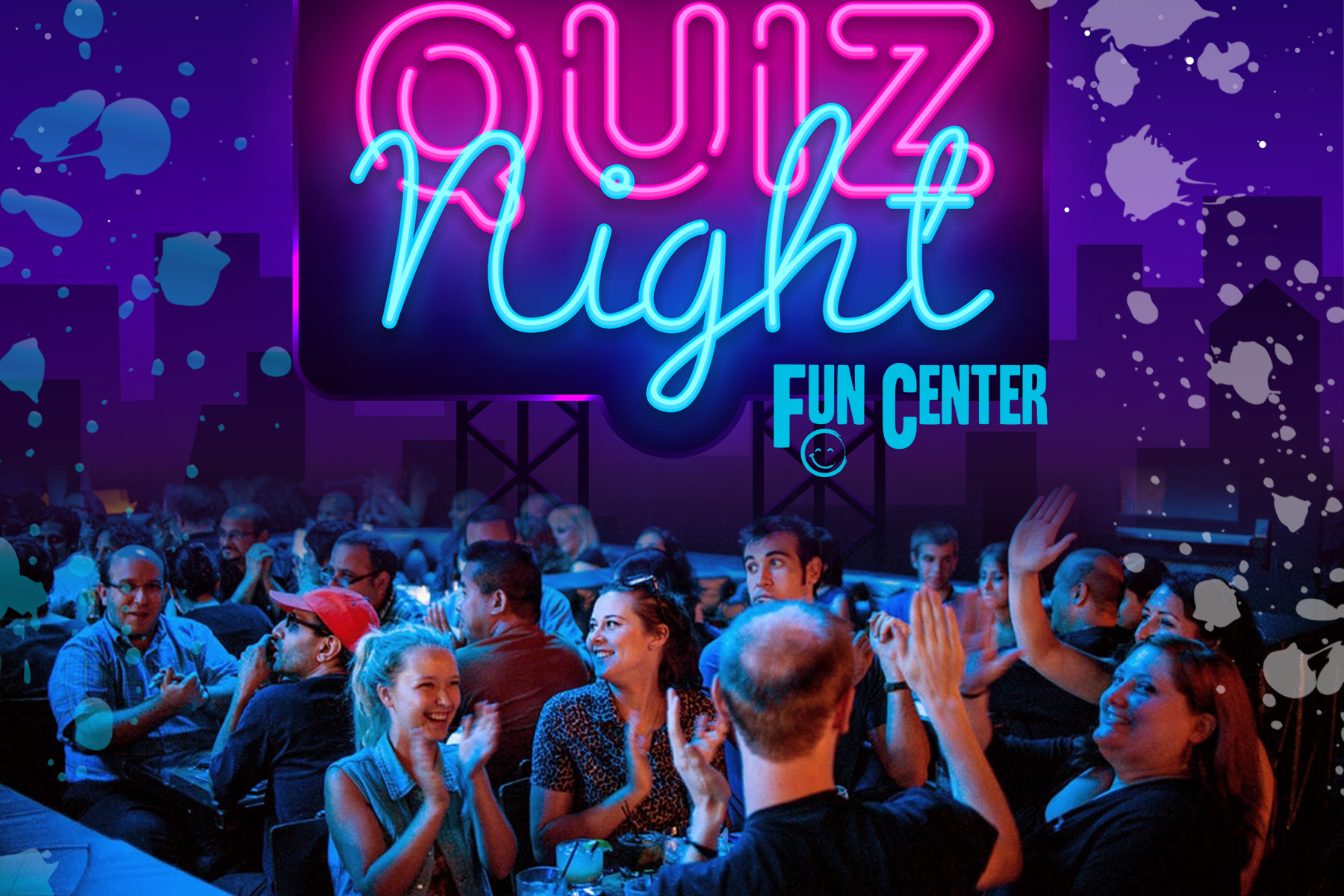 Quiz
We offer all kinds of quizzes for various events. Add an exciting quiz package with activities, food and drinks for your teambuilding or bachelor party!
Note: Amazing Race team building package contains quiz.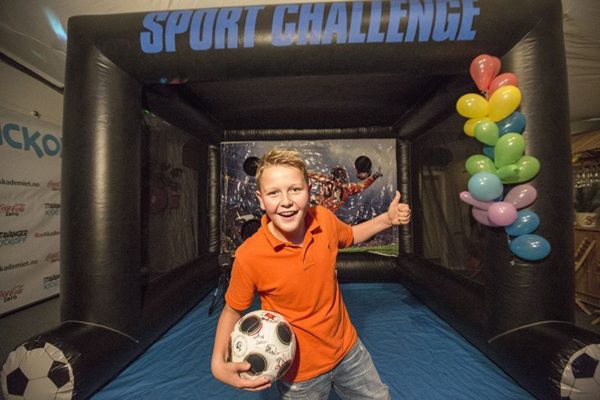 Sports Radar
Sport radar measures the speed of your shot. Test your preferred foot! This is perfect for sports teams, businesses, bachelor parties as well as birthdays that will compete for the best or fastest shot. Sport radar challenges competition spirit in children and adults. Sports teams such as soccer, basketball, golf, baseball and other ball games can order an annual test, in connection with the seasonal shutdown or start of the season. This motivates the whole team to train more. We can provide a result list if desired.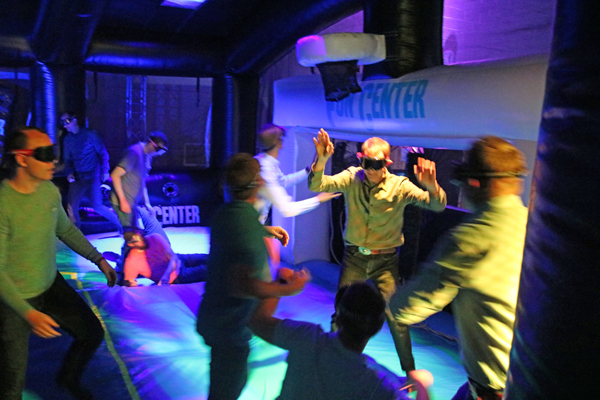 Promille Basketball
Promille Basketball is a new entertaining form of basketball. In this game, the key element here is the promille glasses which stimulate drunkenness (between 1.5 – 2.5). You will find some amount of loss of balance which makes it challenging to co-ordinate your body. It is sometimes hard to even find the ball, let alone trying to get the ball through the hoop. Although you play basketball well, it will feel like you playing it for the first time thanks to the promille glasses.
It is highly entertaining for the participant as well as for the viewers.
Price: 150, – kr pp.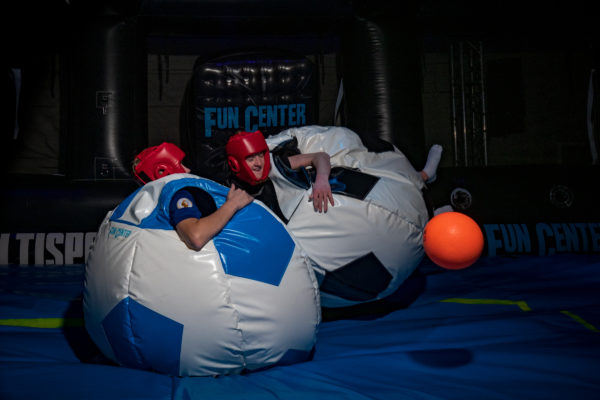 Sumo Football
Looking at fun ways to play football? How about we give you an opportunity to do that but with a twist. We increase the difficulty by putting your opponent and you in giant sumo suits. The suits will make you look like a huge Japanese Sumo wrestler. Headguards in the style of the traditional Sumo haircuts are provided not only to complete the look but also to provide essential protection. Go ahead and claim the title of Championship.
If football is not your thing, you could try Sumo Basketball and Sumo Handball instead.
Ask us for the price.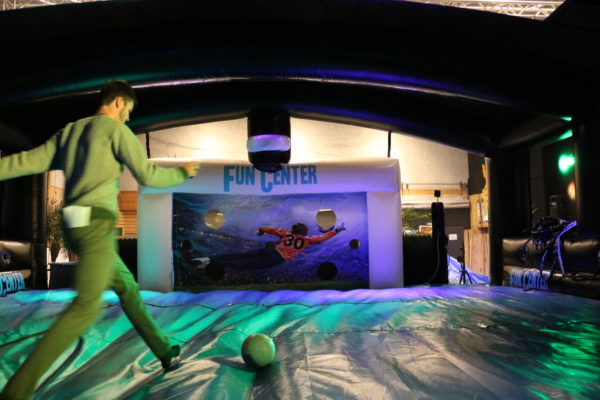 Goal Keeper challenge
The whole team challenges the keeper. The number of goals made get counted. It is a good possibility to train your condition as well as challenging for the goalkeepers skills. Soft landing makes it easier to fling themselves.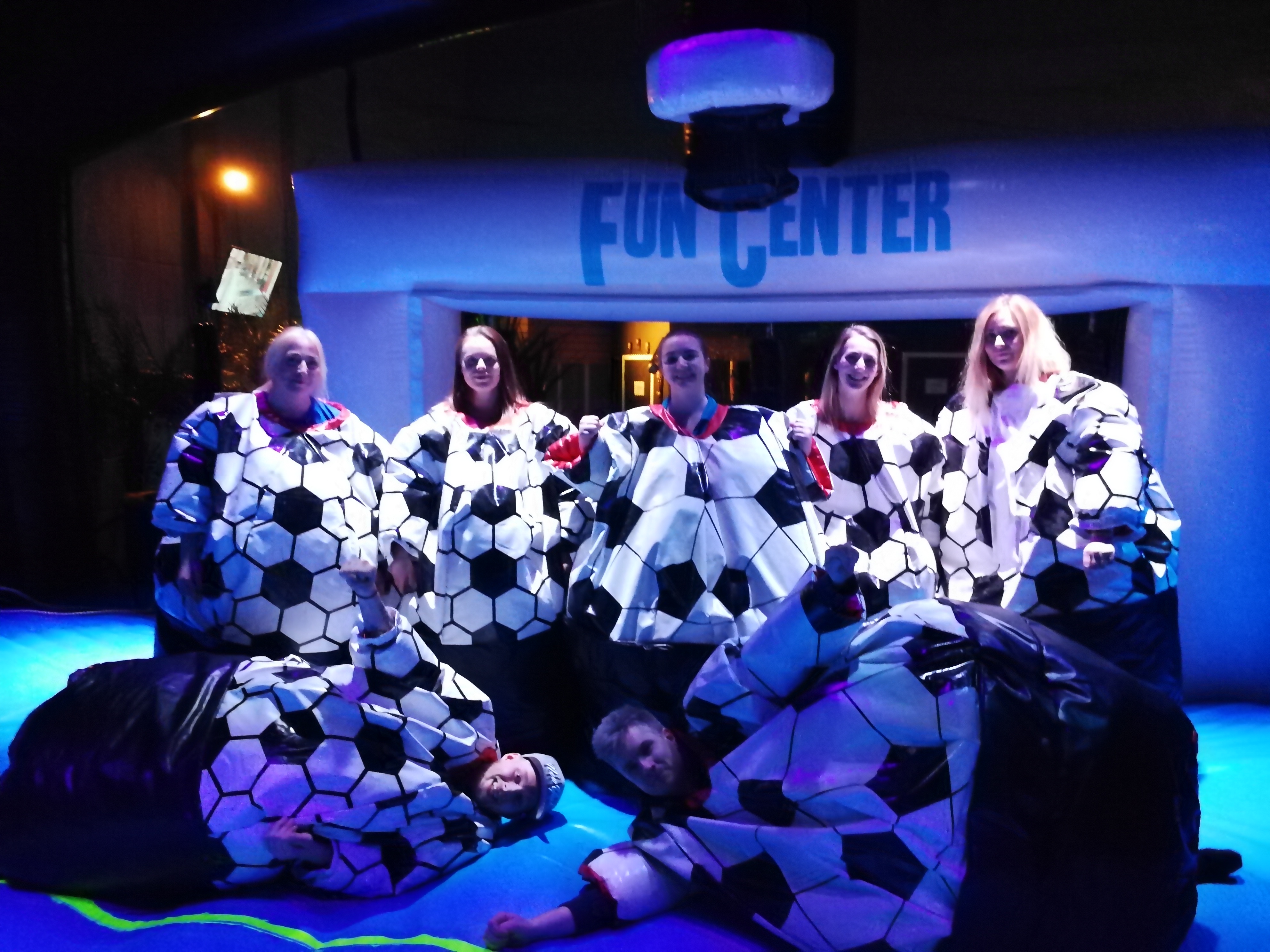 Sumo Handball
Some people may think playing regular handball is not challenging enough. Then we recommend that you try sumo handball for an even bigger and funnier challenges. Own price 150,- kr pp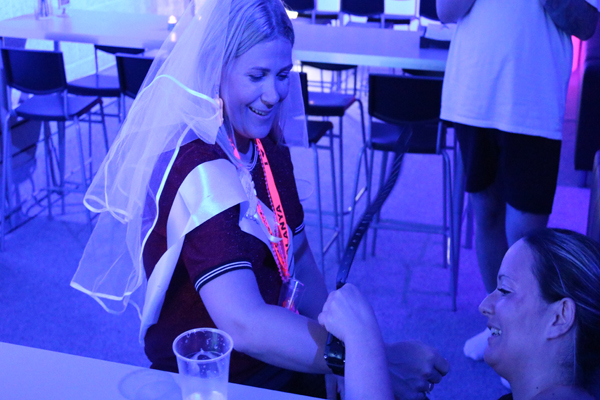 Elektroshock Mix
We use electroshocks for various activities. We challenge participants to sing, draw, dance or carry out any of our activities while they are wearing stun ties. The equipment can be adjusted with shock levels between 1 – 5. Extremely fun to watch, but also fun to attend. Should you book this activity, make sure all participants are medically able to carry out the activity. Ask us for more information. Age limit 18 years.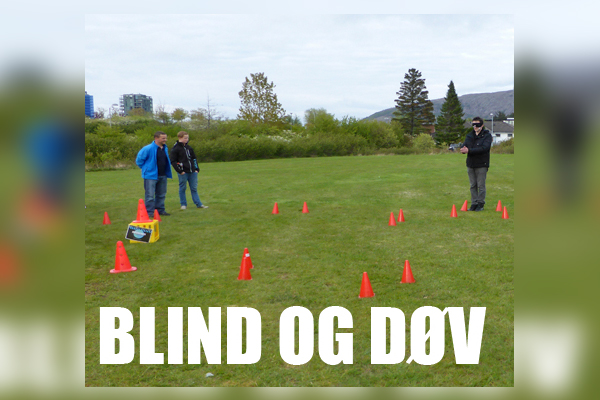 Blind & Deaf
Work together as a team with communication, active listening, cooperation and trust. The deaf lead the blind through an activity trail with difficult challenges.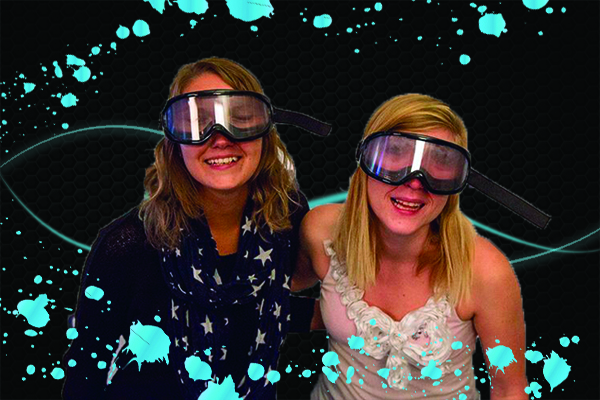 Promille Glasses
Looking to have some extra fun? We bring to you special Promille Glasses. Without the use of alcohol, these glasses stimulate drunkenness (between 1.5 – 2.5). And with that comes significant disorientation like loss of balance which makes it challenging to co-ordinate your body.
While we try to raise awareness, we also try to have fun with contests such as mega maze.
It is highly entertaining for the participant as well as for the viewers.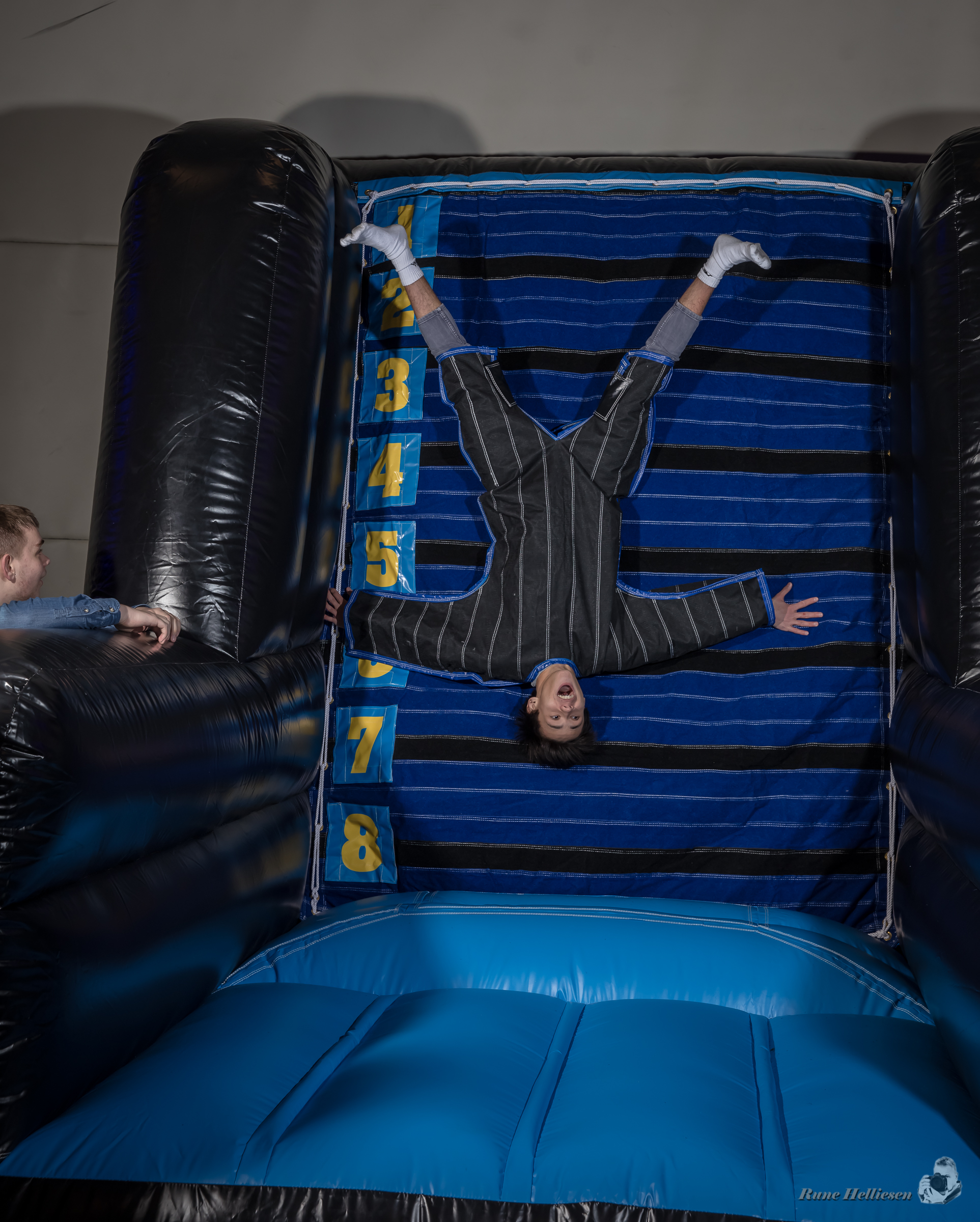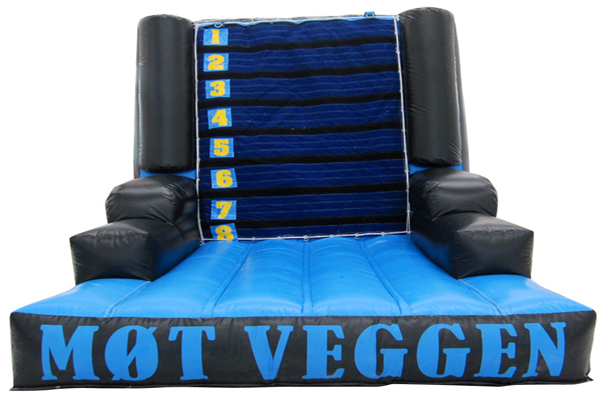 Meet the Wall
Ever wanted to be the spider in the web?? Here, at Fun Center we can make that possible. Unlike the regular bouncy inflatable, here you put on your velcro suit and bounce. When you gain momemtum, jump and stick yourself as high up the velcro covered inflatable wall- upright, side ways or even upside down which ever way you like.
The velcro wall is absolute madness and huge fun for both the participants and the crowd.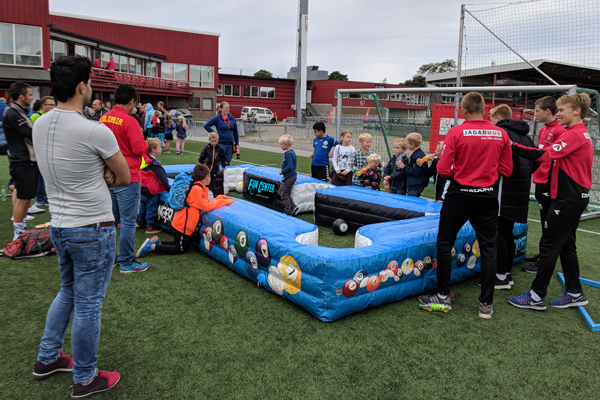 Football Pool
Our Football pool inflatable is a giant human version that combines football and billiards.
No football or billiards skills are required to play this. The Football Pool is suitable for both kids and adults.
7 x 4 meters or 5.7 x 3 meters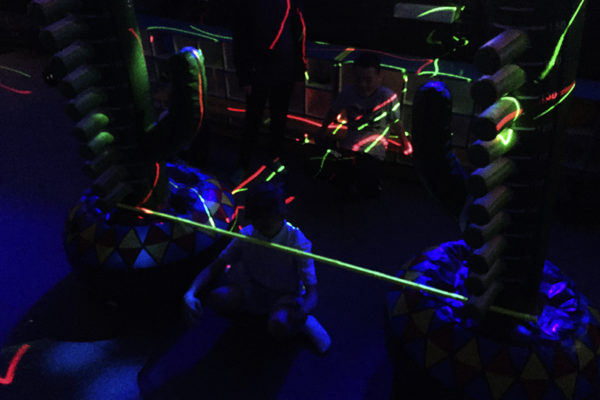 Disco and Blacklight
We offer blacklight activities with sound, light and smoke effects.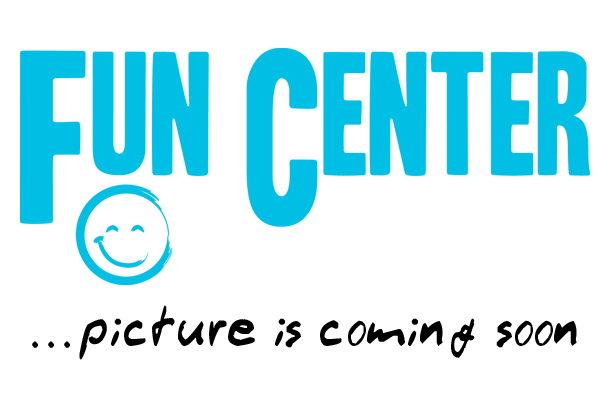 Creative Photowall
Your group gets the challenge to take the most creative position. We make this a fun task and recommend to show these images during dinner entertainment or awards ceremony.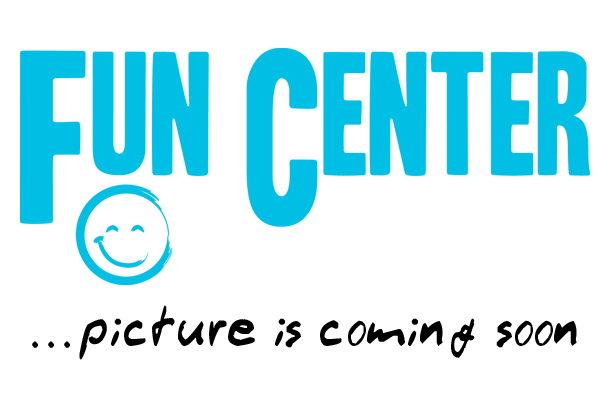 Rope Pulling
Want to get in a competitive mood? We have a physically demanding, competitive and fun team activity just for you. The two teams that pull against each other, will need communication and tactics as well as strength to out maneuver and win. Great activity for all ages.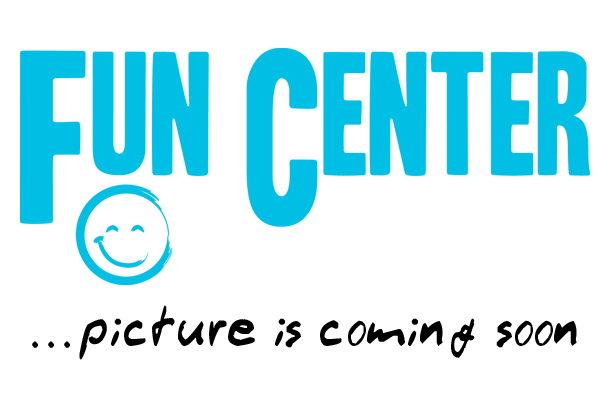 Bowling / Football Bowling
Everybody knows regular bowling, but here you can play bowling with a football. You must kick the ball and hit as many cones as possible. This is a great activity for all sorts of events. You can also play crazy bowling at the same venue.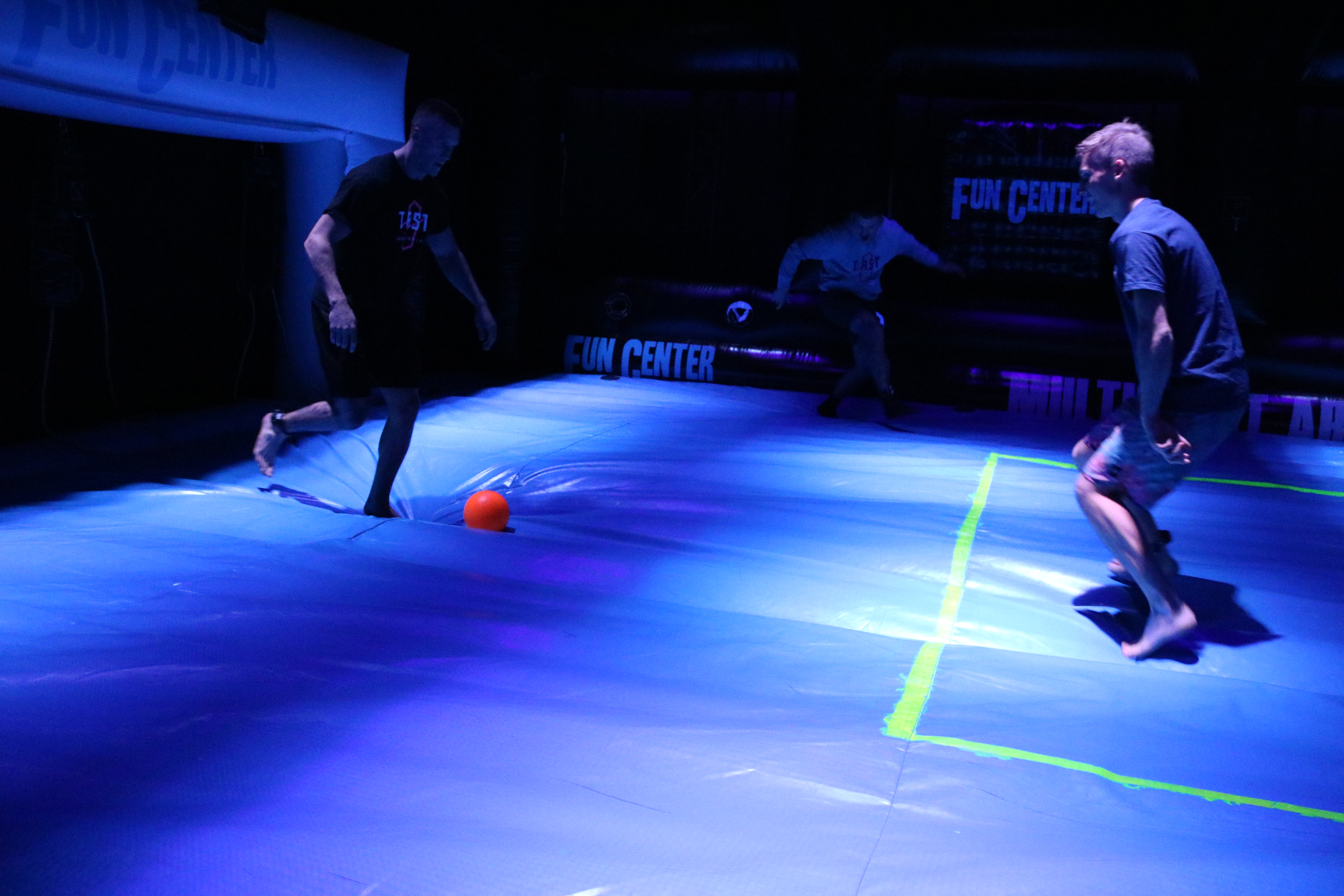 Blacklight Disco Football
Football gets a new dimension when it is played on a giant inflatable field with disco lights and sound effects.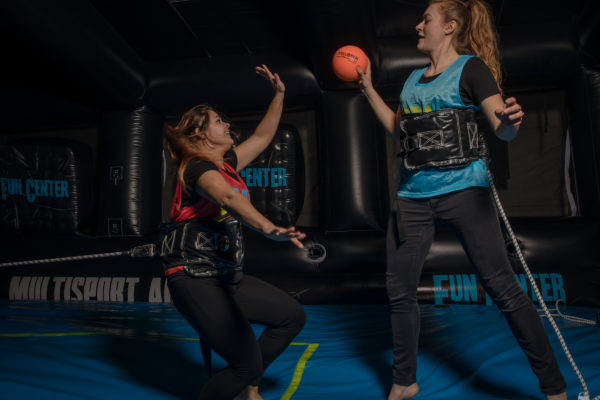 Bungee Basketball
What if we told you that the rules stay the same as regular basketball but with a twist. Imagine being harnessed with a bungee rope and then shooting a basketball accurately! Sounds challenging, isn't it? The unpredictable tugging of the bungee ropes creates a hilarious sight for spectators!
Photographer: Rune Helliesen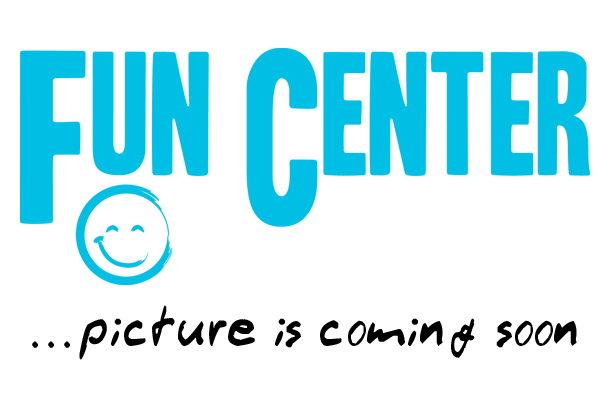 Promille Football
Promille football is playing soccer, but with drunk glasses. These simulate that you have 1.5 promille. This is a fun and mindbending match. Own price 150, – kr pp.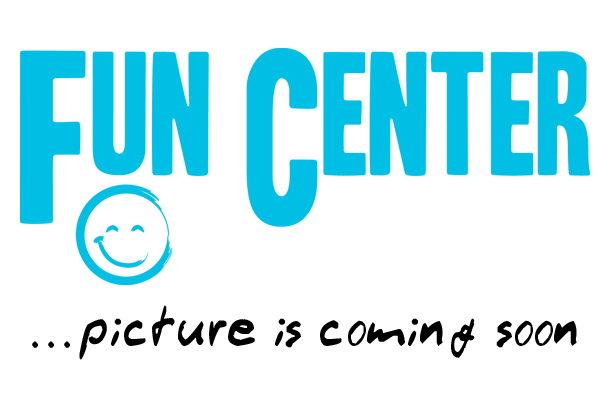 Promille Hockey
You can also try to play hockey with drunk glasses in our Multisport Arena. Own price 150, – kr pp.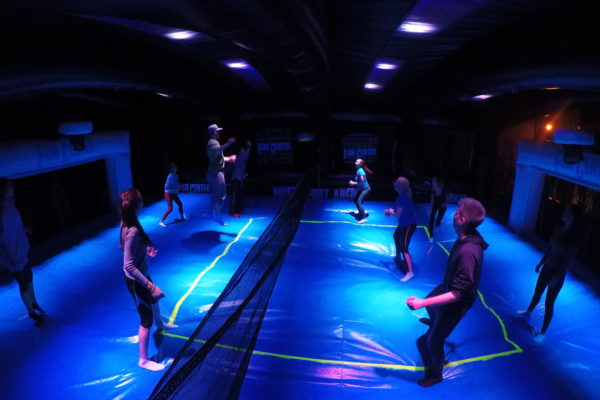 Crazy Volleyball
Volleyball is a sport many people enjoy. Inside our Multisport Arena, you get an extra bounce through the inflatable floor, so you come up high to hit the ball over the net. Try volleyball in a new fun and exciting way.